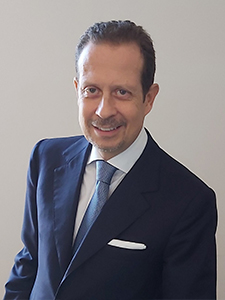 As an expert in public contracts, he concentrates on advising, assisting litigation (administrative, Community, civil and arbitration) with regards to public services (highways, hospitals transport, telecommunication, energy, water, gas), project financing (he has worked on some of the most important projects in Italy for highways, construction and health sectors) for procurement of public works, services and supplies.
In July 2012 he funded P&I Studio Legale Guccione e Associati.
Previously, a partner of CBA Studio Legale e Tributario (former Camozzi Bonissoni Varrenti & Associati), Orrick, Herrington & Sutcliffe and Studio Legale e Tributario Alderighi, Tesauro & Associati.
From 1990 to 1998 he was responsible for the legal area at Associazione Italiana Società Concessionarie Autostrade e Trafori (AISCAT).
Lecturer of public construction law at University of Rome "La Sapienza".
Board member for public works and contracts of the public Administration for the "Giornale di Diritto Amministrativo" (IPSOA); member of the editorial team for the Rivista Amministrativa della Repubblica Italiana; writes for the "L'opinione legale" of the magazine "Le Strade".
He is also author and co-author of numerous monographs, articles and codes editor about public contracts of services and supplies, concessions and project financing, mixed companies for management of public local services and administrative litigation.
He graduated magna cum laude at University of Rome "La Sapienza" in 1990.
Admitted to the Bar of Rome, qualified to represent to the Superior Court.